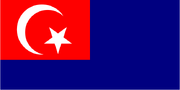 Johor is also known as Johor Darul Takzim. Johor is a Malaysian state, located in the southern portion of Peninsular Malaysia. The capital city of Johor is Johor Bahru, formerly known as Tanjung Puteri. Johor is surrounded by Pahang to the north Malacca and Negeri Sembilan to the northwest, and the Straits of Johor to the south which seperates Johor and the Republic of Singapore. Darul Takzim means 'Abode of Dignity'. Johor's current Sultan is Sultan Ibrahim Ismail and its current Menteri Besar is Abdul Ghani Othman.
Demographics
.
Links to Singapore
Johor is linked to Singapore via two road connections: the Johor - Singapore Causeway and the Malaysia - Singapore Second Link.
Education
Johor has several institusions of higher learning such as Universiti Tun Hussein Onn and Universiti Teknologi MARA Johor among others . Muslim Johorean are required to attend Islamic Religious School at the primary level .
Transportation Hubs
Johor has three ports which is:
The Pasir Gudang Port
The Port of Tanjung Pelepas
The Tanjung Langsat Port
Johor also has an airport, The Sultan Ismail International Airport.
thumb|300px|right|Johor State Anthem
References
Community content is available under
CC-BY-SA
unless otherwise noted.